Pre-requisite Steps:
Step 1: Install Zap Attachment Viewer solution in your CRM environment
Step 2: Request trial license by registering profile online (refer licensing KB article for more instructions)
Step 3: Add Zap Attachment Viewer web-resource to entity form (Refer KB article: How to add Zap Attachment Viewer web resource to entity form)
Step 4: To filter attachments by size or file type… create a "Global Settings record" (Browse to "Attachment Viewer" App…open "Global Settings")
You are now ready to use Attachment viewer App!
Let's take an example of using "Attachment Viewer" in the Case form. Screenshot below: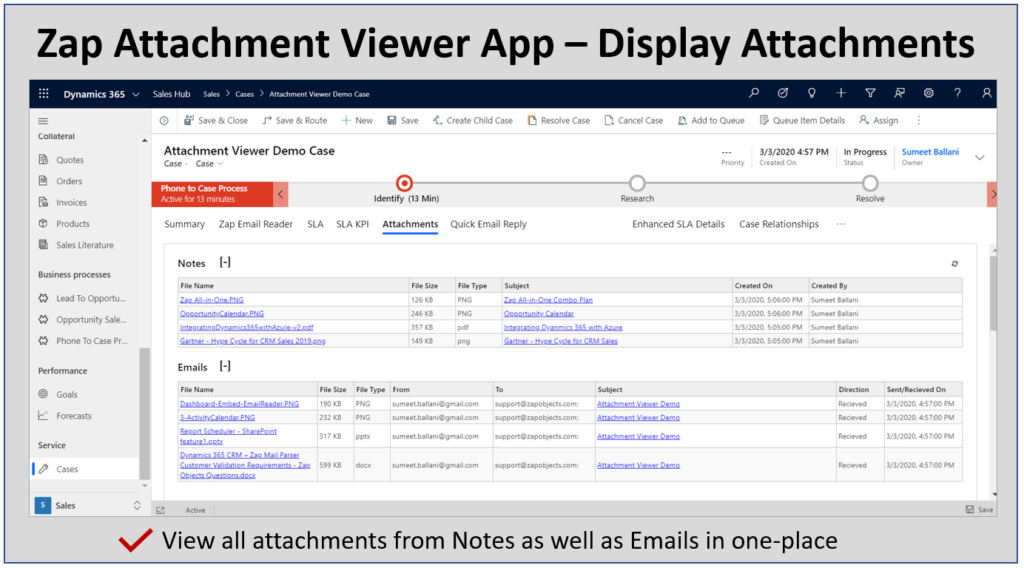 New feature (March 2020): Preview Attachments without need to Download (Screenshot below):
Please note that preview feature is supported only for files of type: image and pdf. Also the attachments need to be in Dynamics 365 (not in external storage).
Few points to note regarding "Attachment Viewer" App:
Attachments are shown in a consolidated fashion divided in to two categories: Notes and Emails
Attachments are sorted by created-on date. Further, you can sort the attachments by clicking on column header (by attachment name, file type, etc).
"Right Click" and select "View" to preview attachment
To download any attachment, click on the attachment name
To open the source email or notes record, click on the subject name.