To use Zap Team Calendar App, browse to Settings > Zap Apps  and click "Zap Team Calendar".
Pre-requisite Steps:
Step 1: Install Zap Team Calendar solution in your CRM environment
Step 2: Request trial by registering profile online (refer licensing KB article for more instructions)
Step 3: Once trial approved, activate license by clicking "Update License" button (refer KB article)
Step 4: Create "Zap TC Configuration" record. This has calendar related settings. (refer KB article)
Step 5: Assign Security role: To use Team Calendar App, assign "Zap TC User" security role to users.
You are now ready to use Zap Team Calendar App!
Explanation of Team Calendar App UI settings:
My Records: In-order to view only your activties, set the checkbox "My records".  This setting is checked by default.
Filtering by team: "Select Team" drop-down will show the various teams that are available in your CRM. Selecting a team, will show a list of users (that belong to that team). Please note that this list excludes your name (logged in user name). If you want to see your activities then can set the checkbox "My records".
Filtering by Activity Type: You can filter the activities based on activity type (phone call, appointment, tasks, etc)
Filtering by Activity Status: You can filter the activities based on activity status (open, completed, etc)
Creating new activities: You can create new activities directly from the calendar interface by clicking "New Activity" button in the ribbion.
Show Expanded Calendar: If this setting is unchecked then maximum up to 3 activities are shown per cell in the calendar view. A cell having more than 3 activities will show text "X More Activities", where X is the count of additional activities. If you check this setting then the calendar will expand to show all the activities by default.
Modifying existing activities: Double-clicking the activity item in calendar control, opens up the activity form. You can modify and save the activity record. On closing the activity form, the calendar control would be automatically refreshed.
Navigating Calendar Period: Day / Week / Month
Period Selected
: Month;
View: Calendar
Period Selected
: Week;
View: Timeline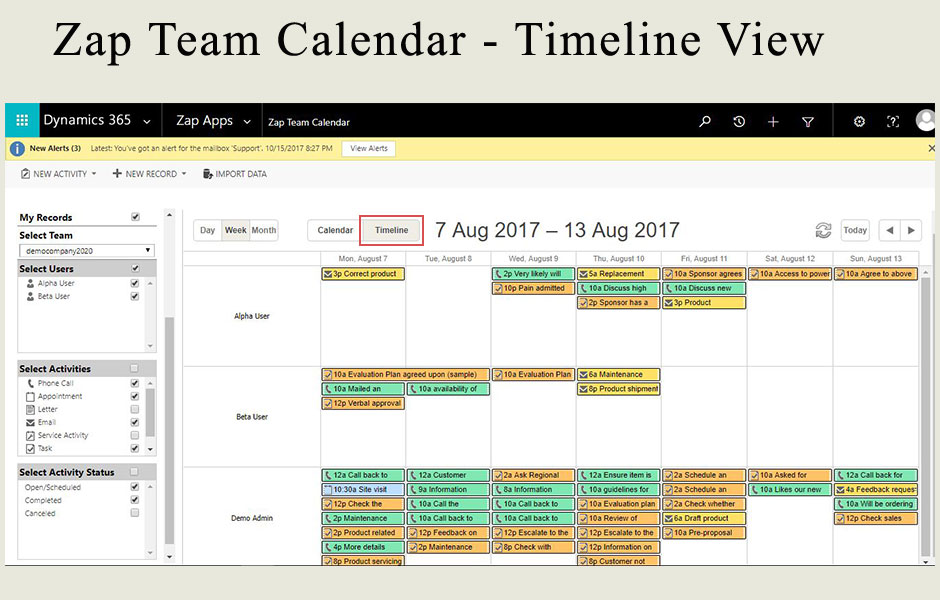 Period Selected
: Day;
View: Calendar