Now you can backup and restore configurations and parsing rules from one environment to another (or same-one).
Below are the steps to create Backup:
Step 1: Browse to Zap EP Configuration. Select all the configurations that need to be backed up and click button "Create Backup"
Step 2: Browse to Zap EP Configuration Backup.
Open the newly created record.
Copy the text from field "Configuration JSON" … now paste in a notepad and save the file.
Below are the steps required to restore the backup:
Step 1: Browse to Zap EP Configuration Backup. Create a new record and paste the entire text from notepad file (which was saved during Backup process) to field: Configuration Json…and save the record!
Step 2: Click button "Restore Backup"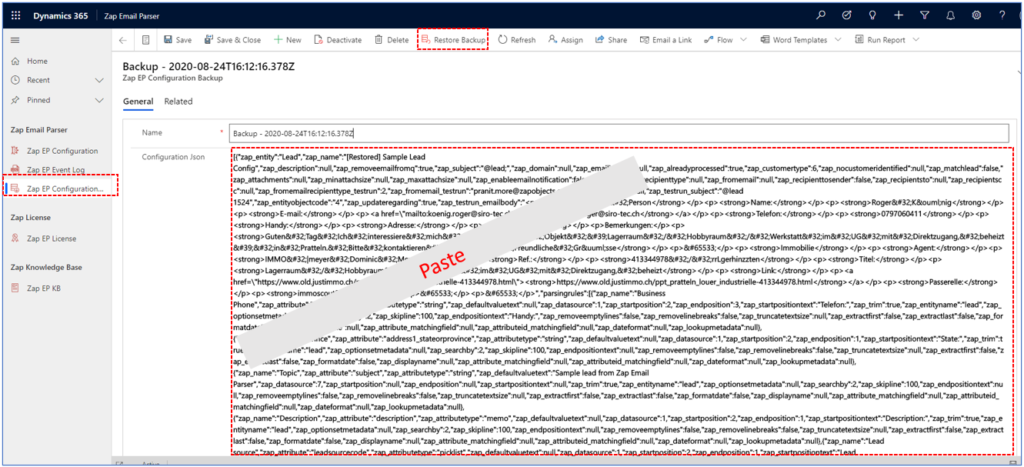 Points to note regarding Backup and Restore process:
Backup of configuration also includes the parsing rules.
You can include multiple configuration records when taking backup.
This is not a fool-proof process and you will still need to go through the restored configuration & parsing rule records to check if all fields have been set correctly.
However the process does most of the heavy lifting needed to re-create multiple configuration records… there by saving your productive time!
The Queue lookup (in the configuration record) is not selected during the restore process  and you need to manually select it.