Browse to Zap Apps >> Zap RS Global Setting and click "New"
Explanation of form fields:
Email – From Recipient – Type: User / Queue : The "From" recpient of the email generated by report scheduler can be either a crm user or queue.
If this value is selected as "User" than select the crm-user from the lookup. Please note that if you are using the option "User"…then any dynamic crm user who schedules the record needs to have below personal setting checked: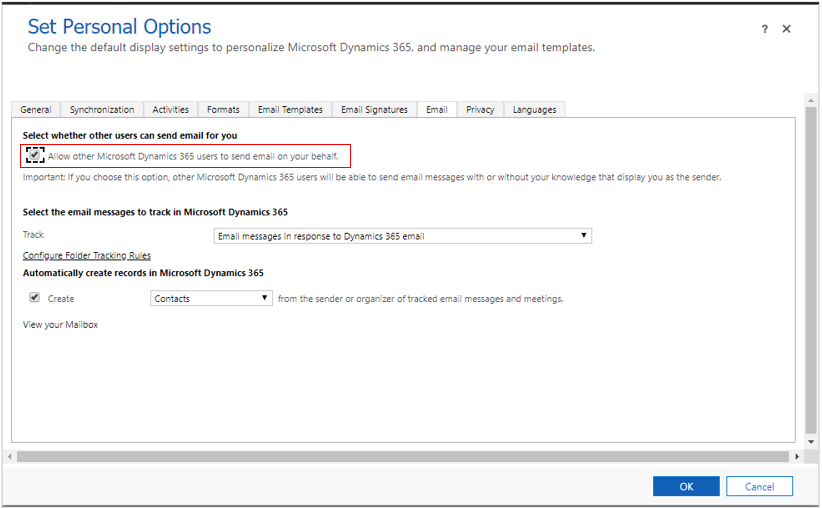 However, if value selected is a Queue…then report scheduler will use the Queue to send the email. Please ensure that you have enabled the server side synchronization setting for the queue.
Email Template (Default): You can select a global email template here. By default this field will be populated by value "Zap RS Quick Start Template".
The report scheduler configuration, also has field called as "email template". The value that you specify in field " default email template" (of Global Settings page) gets automatically populated in field "email template" (of Report Scheduler page).
Scheduled Time – Buffer (MM) (Default): Report Scheduler allows you to schedule a report to run at a particlar time. We use CRM background workflows to trigger on this specific time. However we have found that a waiting workflow may not get triggered exactly at the scheduled time.. but there may be a delay by minute or two. Hence we generally define a buffer time…eg if the report is schedule to run at 6:15…however the workflow got triggered at 6:16…then also the report would get executed if the buffer time specified was 1 minute or more…
We recommend having atleast 2 minutes selected as the buffer time.
Date-Time format – The format that is selected here, will be used at the following places:
1. To display the run-time statistics in RS Configuration record
2. To display the date for token {{Report_GeneratedOn}} (which is used in the email template)
Below options are available:
dd/MM/yyyy HH:mm:ss => Time is displayed in 24hr format
MM/dd/yyyy HH:mm:ss => Time is displayed in 24hr format
dd/MM/yyyy hh:mm:ss tt => Time is displayed in AM/PM
MM/dd/yyyy hh:mm:ss tt => Time is displayed in AM/PM
Next: Creating Zap RS Configuration record (Scheduling the report)